Ergonomic Workstation Design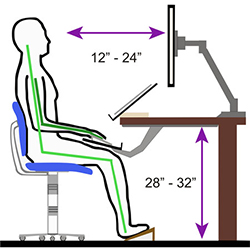 An essential part of an ergonomics program is designing a workstation for the tasks users perform. For repetitive tasks, look for characteristics of the userworkstation interface that could lead to cumulative trauma disorders (CTDs). Significant issues are posture and contact stress.
Also important in evaluating a workstation is identifying safety hazards that could cause non-cumulative types of injuries – cuts, bruises, and fractures. A user's posture is greatly influenced by the design of the workstation's furniture and accessories – and by the layout of the tools, piece parts, and other equipment.
Need consultation for ergonomic workstation design for your premise?